A step-by-step guide on how to set up and calibrate your Redbird Alloy home flight simulator controls for MSFS 2020
Printable PDF version of this guide
1. With Microsoft Flight Simulator 2020 open, navigate to the Options drop-down menu and select Controls. Or, if you've already begun a flight, press the Escape key on your keyboard and select Controls.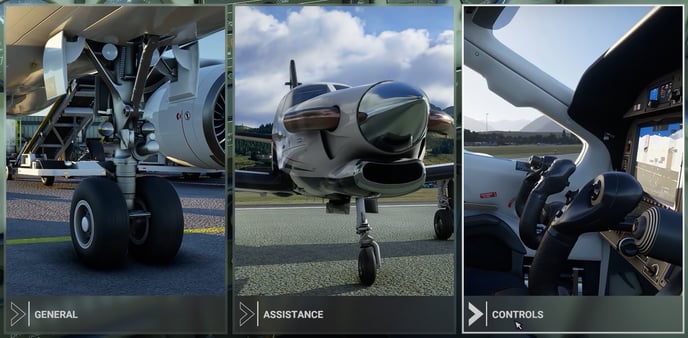 2. At the top of the Controls menu, select the tab that corresponds to the controller that you wish to configure (YK1, RD1, TH1, TH2, and/or TH3).
3. Once you've selected your controller, navigate to Filter at the left side of the Controls menu, and change the setting from "Assigned" to "All."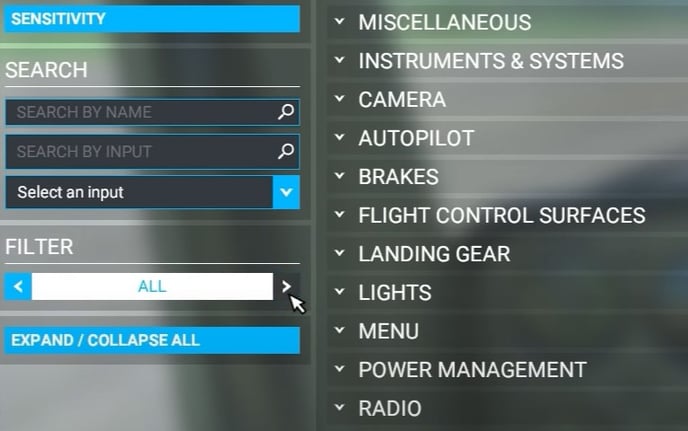 4. Now you can use the Search by Name box to search for your desired control (for instance, "throttle" or "rudder").

To find the axes for a control, you also can search "axis."

5. To map the control, click its name on the screen.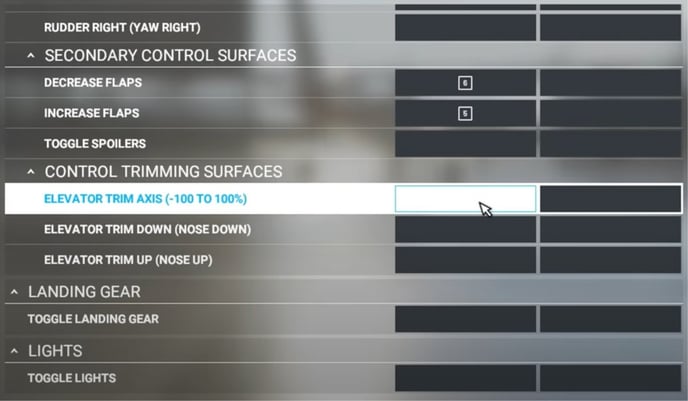 6. Then choose a corresponding input using the Search by Input box. When you're finished mapping, click on Validate to make any changes.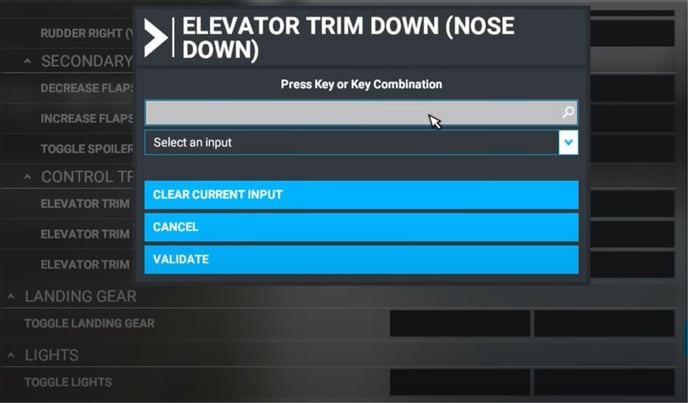 7. Note: the axes that you calibrate in the Windows game controller settings are the same that you select from in the input field in MSFS 2020. So, don't pay attention to the + or - options if you've already calibrated your controls in Windows. Just choose the corresponding X, Y, or Z-axis and test to see if it is moving as intended. For instructions on how to calibrate your controllers in Windows, refer to our calibration guides for each Redbird Alloy product.
8. To save your changes, click Apply & Save at the bottom of the Controls menu. If you had already launched a flight, press the Escape key to return to it.
Recommended Mapping and Sensitivity Settings for Microsoft Flight Simulator 2020
Alloy YK1 Yoke
Button/Axis Mapping:
Joystick L-Axis X: Ailerons Axis; Reverse = False
Joystick L-Axis Y: Elevator Axis; Reverse=False
Button 1: Display ATC
Button 2: Set Autopilot Disengage
Button 3: Elevator Trim Down (Nose Down)
Button 4: Elevator Trim Up (Nose Up)
Button 5: Cockpit Look Down
Button 6: Cockpit Look Right
Button 7: Cockpit Look Up
Button 8: Cockpit Look Left
Button 9: Reset Cockpit View

*Note: Buttons 5-9 are not available on Generation 1 YK1 Yokes.
Sensitivity Settings:
Ailerons Axis:

Sensitivity -: -25%
Sensitivity +: -25%
Dead Zone: +5%
Neutral: 0%
Extremity Dead Zone: 0%
Reactivity: 100%
Elevator Axis:

Sensitivity -: -40%
Sensitivity +: -40%
Dead Zone: +5%
Neutral: 0%
Extremity Dead Zone: 0%
Reactivity: 100%
Alloy RD1 Rudder Pedals
Button/Axis Mapping:
Joystick L-Axis X: Left Brake Axis; Reverse=True
Joystick L-Axis Y: Right Brake Axis; Reverse=False
Joystick L-Axis Z: Rudder Axis; Reverse=False
Sensitivity Settings:
Left/Right Brake Axes:

Sensitivity -: -0%
Sensitivity +: -0%
Dead Zone: 0%
Neutral: 0%
Extremity Dead Zone: 0%
Reactivity: 100%
Rudder Axis:

Sensitivity -: -75%
Sensitivity +: -75%
Dead Zone: +5%
Neutral: 0%
Extremity Dead Zone: 0%
Reactivity: 100%
Alloy TH1 Throttle Quadrants
Button/Axis Mapping:
Joystick L-Axis X: Throttle 1 Axis; Reverse=False
Joystick L-Axis Y: Propeller 1 Axis; Reverse=False
Joystick L-Axis Z: Mixture 1 Axis (0-100%); Reverse=False
Button 1: Gear Up
Button 2: Gear Down
Button 3: Decrease Flaps
Button 4: Increase Flaps
Sensitivity Settings:
All Axes:

Sensitivity -: -0%
Sensitivity +: -0%
Dead Zone: 0%
Neutral: 0%
Extremity Dead Zone: 0%
Reactivity: 100%
Alloy TH2 Throttle Quadrants
Button/Axis Mapping:
Joystick L-Axis X: Throttle 1 Axis; Reverse=False
Joystick L-Axis Y: Throttle 2 Axis; Reverse=False
Joystick L-Axis Z: Propeller 1 Axis; Reverse=False
Joystick R-Axis X: Propeller 2 Axis; Reverse=False
Joystick R-Axis Y: Mixture 1 Axis (0-100%); Reverse=False
Joystick R-Axis Z: Mixture 2 Axis (0-100%); Reverse=False
Button 1: Gear Up
Button 2: Gear Down
Button 3: Decrease Flaps
Button 4: Increase Flaps
Button 5: Rudder Trim Left
Button 6: Rudder Trim Right
Sensitivity Settings:
All Axes:

Sensitivity -: -0%
Sensitivity +: -0%
Dead Zone: 0%
Neutral: 0%
Extremity Dead Zone: 0%
Reactivity: 100%
Alloy TH3 Throttle Quadrants
Button/Axis Mapping:
Joystick L-Axis X: Throttle 1 Axis; Reverse=False
Joystick L-Axis Y: Propeller 1 Axis; Reverse=False
Joystick L-Axis Z: Mixture 1 Axis (0-100%); Reverse=False
Button 1: Gear Up
Button 2: Gear Down
Button 3: Decrease Flaps
Button 4: Increase Flaps
Sensitivity Settings:
All Axes:

Sensitivity -: -0%
Sensitivity +: -0%
Dead Zone: 0%
Neutral: 0%
Extremity Dead Zone: 0%
Reactivity: 100%