Cygnus Cable/Device Connection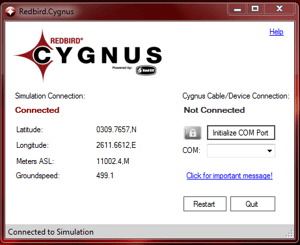 If the Cygnus software doesn't see a cable connected to the computer, there will be a "Not Connected" message on the cable/device connection side of the Cygnus Information Console.
Try unplugging the Cygnus cable from both ends, and allow it a few seconds to discharge. Plug in the device end (either the Pro unit or your iOS device) before plugging the data (USB) end back into the computer.
Try swapping the data (USB) end of the Cygnus cable to a different USB port on the computer.

Note: If using Cygnus on a larger Redbird (AATD) simulator, it is recommended that the Cygnus cable be plugged into one of the USB ports on the front panel of the computer.

If neither of those steps bring the Cygnus Cable/Device Connection back to "
Connected
";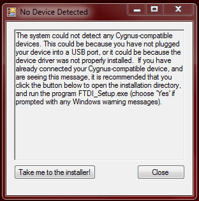 Click the link: Click for important message! (above the Restart and Quit buttons).
A new window will pop up with a message about the Cygnus device not being connected or the drivers not being properly installed.
Click the Take me to the installer! button to open the folder containing the driver installer.
Launch (double click) the FTDI_Setup.exe to install the Cygnus cable driver.*
*The FTDI_Setup.exe may need to be launched twice to install. When the installer is running properly, a "command prompt" window will pop up for a moment as the installer executes, and the "Click for important message!" link should disappear from the info console.
If the above steps fail to resolve the issue, contact
Redbird Support
for further troubleshooting