Simulation Connection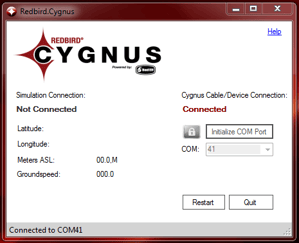 If the Cygnus software doesn't see a flight running in any simulation software on the computer that it's installed on, it will show a "Not Connected" message on the Simulation Connection side of the Cygnus Information Console.


Make sure that there's a compatible flight simulation software running on the computer that is running Cygnus.*

*Cygnus is compatible with most Windows based flight simulation software, including:
Microsoft Flight Simulator 2000-2004
Microsoft Flight Simulator X (with Service Pack 1 installed)
Microsoft ESP
Lockheed Martin Prepar3D
X-Plane 9 & 10

Try restarting the Cygnus software using the Restart button on the Cygnus Information Console. If seeing the same result, try restarting the flight simulation software then launching another flight.
If after performing the above steps, the Simulation Connection side of the Cygnus software is still showing "Not Connected";
Open the Cygnus Activation Console by right clicking on the Cygnus taskbar icon and selecting Activation Console.
There should be a green icon under the status section of the Cygnus Activation Console for each simulation software installed on your system.
If there isn't a green icon next to the simulation software that is installed on your system, hit the Check Prerequisites button on the Activation Console and Cygnus should find your simulation software. *

*If the icon next to your simulation software is still red or turns yellow, it may be installed in a non-default directory or there may be additional software required to use Cygnus. Double click the option for your version of simulation software and a new window should pop up with further instructions (usually links to install extra software).
If the above steps fail to resolve the issue, contact
Redbird Support
for further troubleshooting.