Recommended troubleshooting steps to follow if your flight history or GIFT scores are not uploading to your Redbird Account.
If you're having difficulty getting your flight history to upload to your Redbird Account (for debriefing flights, viewing GIFT scores & history, etc.) there are a few things you should check to resolve the issue.
Are you signing in to Navigator using your Redbird Account or by plugging in a valid Pilot Key USB?
You can sign in to Navigator to sync your flights up to your Redbird Account in two ways:
Sign in to your Redbird Account directly through Navigator by selecting the User icon in the top right corner of the UI, then type in your Redbird Account login information when prompted.
Plug in a valid Pilot Key USB, and enter your PIN code when prompted.
For instructions on how to create a Redbird Account or generate a Pilot Key, see the Create and Edit User Account User Guide.
Is the "Sidekick Uploads" setting turned
On/Enabled

through Sim Management -> Settings?

There is an "Opt In/Out" setting in Sim Management -> Settings called Sidekick Uploads. This setting needs to be set to On for flight data/history to upload to Redbird Accounts.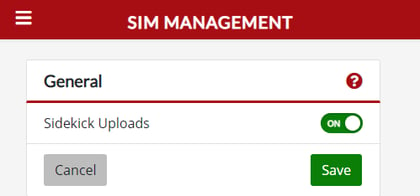 To turn on this setting, use the following steps:
Go to Sim Management through Navigator on the system.
Navigate to the Settings* section of Sim Management.
Ensure that the Sidekick Uploads setting is set to On.
Click the Save button to save the changes (if anything has changed).
* The Settings page is password-protected for security. The default password to view/change settings is Redbird12345 (case-sensitive). Contact your local system administrator for assistance.
Are your System Date & Time accurate?
If the Windows date & time are inaccurate, your system may be unable to upload flight history/data properly. To sync/update your Windows system date & time, follow these steps:
Right-click on Windows date & time on the Taskbar*.
* If you don't see the Taskbar, press the Windows key on your keyboard to make the taskbar appear (usually along the bottom or top of your main screen).
Select Adjust Date/Time.
Either adjust the date & time manually through the menu that appears or attempt to automatically sync with Windows using the Sync Now button.


Do you have any firewall or network security issues?
See our guide on Redbird Cloud Services Whitelisting Recommendations for important URLs and ports required by our cloud services.
If the above steps do not resolve the issue, contact Redbird Support for further troubleshooting.